Happenings
C.72
C.72
January 21st 2018, 12:30 pm

-

4:30 pm

$10.00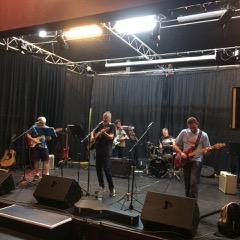 On the 21st of January, C.72 will be providing all the entertainment you need for a relaxing lunch by the vines.
This Waiheke Island based band specialises in great rock music from the seventies, offering up a laid back, casual vibe perfectly suited to an afternoon chill out at the vineyard.
Our reasonably priced special concert menu will be available to make the day extra special.
Music runs from 12:30pm to 4:30pm. Entry fee $10.
Book your tickets using the link below, or call Peacock Sky on (09) 950 4386. Book early to get a pre-reserved table!
Concert Menu
Hot Plates
Gourmet Burger $18
Brioche bun with melted cheese, caramelized onion and aioli drizzle.
Served with our famous crisscut chips
Veggie burger (falafel) $18
Served with all of the trimmings as shown above.
Quesadilla $18
Stuffed with pulled pork, salsa sauce, cheese and black olives,
nice and spicy. Served with a summer salad.
Bowl of crosscut chips $8
Cold Platters
$25
Sky Cheese Platter
A selection of 3 cheeses (camembert, creamy blue, cheddar) with freshly baked bread.
Mini Dane Meat Platter
Pork belly, meatloaf, olives, chutney, salad and fresh baked bread.
Veggie Platter
All of the garden greens, sun-dried tomatoes, olives, feta, sprouts,
roasted capsicum (Vegan friendly without feta).
Kids
Meatball sandwich $8
Desserts
Ice Cream of the day – Per scoop $8