Follow the gravel road for 400m (approx. 4-5 minutes) and you will see the entrance to the trail on your left, marked by a post with a red badge.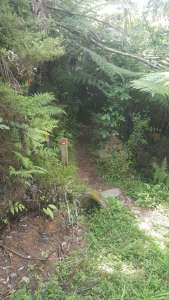 You are now just 1km (approx. 12-15 minutes) from Peacock Sky. Start following the trail and you'll notice it's marked by green and yellow posts. You'll encounter one after 30m, 50m, 100m, and so on—keep following these posts!
After about 160m (2 minutes) you'll cross a small wooden bridge with handrails.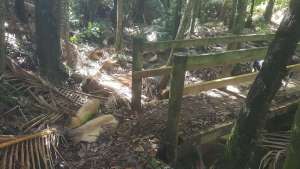 About 220m (2-3 minutes) after the first bridge, you'll encounter a second bridge. Keep following the trail!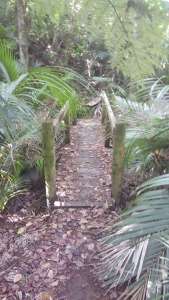 About 210m (2-3 minutes) after the second bridge, you'll need to duck under this great big fallen tree!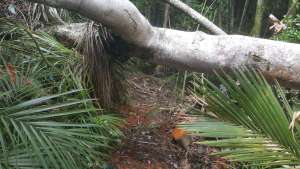 About 140m (2 minutes) after the fallen tree, you'll encounter some more square posts with red badges. Just like the green and yellow posts, these also mark the trail.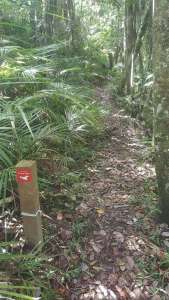 About 200m after the red badge posts, you should see this sign on your left. You're almost there now!
Head up the hill on the little side track.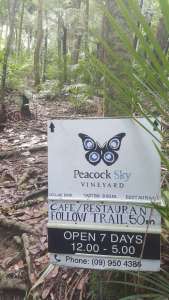 After about 20m you'll find some simple steps.
Follow these around to your right.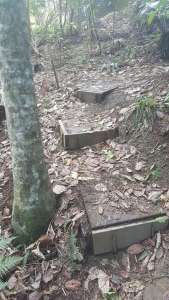 After another 10m you'll find this staircase.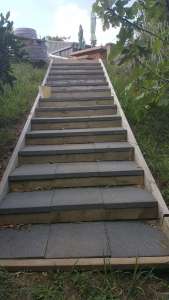 You'll emerge in our outdoor seating area just outside the tasting room and restaurant.
Welcome to Peacock Sky!